How to Survive Death March Projects? (Part 2) – MES040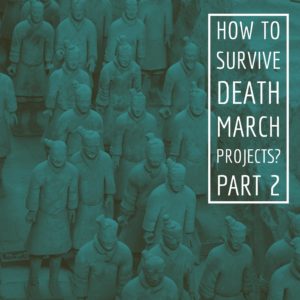 In the last episode I have mentioned how important negotiations become in maintaining a Death March project. Today we're focussing on another aspect: How to gather the right people in your project?
Especially in Death March projects your surrounding team mates might become the only persons you see for a very long time. Insist on having the right persons in your team. Expect overtime hours, but remember always that you've a long way to go. And at the very end you should have enough power to sprint for the last 100 meters.
Taking care for people is an essential part to be successful in running projects. For Death March projects however it is an absolute must to do it. Besides all technical knowledge, besides all negotiations, you need to have loyal, cohesive, and cooperative team with you.
In this episode I will highlight some essentials when working with people in critical projects.
Stay tuned and be inspired.
Essential Answers Provided In This Episode For:
What are typical strategies to staff your team?
How to ruin your project for sure?
Why should you lead by example? See also NLP-Pod episode #69
When to keep your promises?
Why your communication skills are even more important than your technical skills?
Where and how to build a team?
And much much more.
Selected Links and Resources From This Episode
Thank You For Listening
Out of all the podcasts available in the Internet you tuned into mine, and I'm grateful for that. If you enjoyed the episode, please share it by using the social media buttons you see at the bottom of this note. Also, I would be very happy if you would consider taking the minute it takes to leave an honest review or rating for the podcast on iTunes or Stitcher. They're extremely helpful when it comes to the ranking of the podcast. For sure I read every single one of them personally! Or, if you prefer a more direct contact, don't hesitate and drop me a note at
feedback@embeddedsuccess.com
https://embeddedsuccess.com/wp-content/uploads/2015/06/Logo3.png
0
0
georg
https://embeddedsuccess.com/wp-content/uploads/2015/06/Logo3.png
georg
2016-07-19 08:15:08
2016-10-23 13:42:48
How to Survive Death March Projects? (Part 2) – MES040