5 hacks to succeed in discussions with your vendor – MES044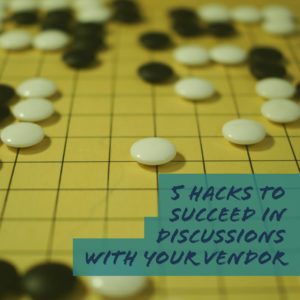 Right before my holiday I have made a bad experience. Some meetings with a vendor have gone sub-optimal to say the least.
There were several road blocks and nit-picking details which brought the meetings close to waste of time.
However it was a good opportunity to observe what could be done much more better when talking with vendors for technical problems. I have run a lot of such talks and I wanted to take this bad situation as trigger to collect my 5 hacks to get the most out of vendor discussions.
You should listen to this episode if you will sooner or later found yourself confronted with your boss' request: "Hey man, let's discuss with vendor #XYZ. They should support us here." And with "let us" he of course means you. Or you've already talked with your vendor (or vendors) and you again and again observe some counterproductive situations, but you do not exactly know how to improve them.
This episode enhances you to finish vendor discussions better as average. Or if you're the vendor, you know exactly whether your customer is well prepared and honest with you in his request for explicit support.
Stay with me and enjoy the chat.
Essential Answers Provided In This Episode For:
Why do we need to talk with the vendor?
Why becomes the meeting invitation that essential?
When you should cancel the meeting directly?
How can you prepare for the meeting with your vendor?
What kind of additional communication channels should you maintain during the meeting?
When will superiors in the meeting become counterproductive?
Why writing of minutes is the key-point in control?
And much much more.
Selected Links and Resources From This Episode
Thank You For Listening
Out of all the podcasts available in the Internet you tuned into mine, and I'm grateful for that. If you enjoyed the episode, please share it by using the social media buttons you see at the bottom of this note. Also, I would be very happy if you would consider taking the minute it takes to leave an honest review or rating for the podcast on iTunes or Stitcher. They're extremely helpful when it comes to the ranking of the podcast. For sure I read every single one of them personally! Or, if you prefer a more direct contact, don't hesitate and drop me a note at
feedback@embeddedsuccess.com
https://embeddedsuccess.com/wp-content/uploads/2015/06/Logo3.png
0
0
georg
https://embeddedsuccess.com/wp-content/uploads/2015/06/Logo3.png
georg
2016-09-13 08:15:25
2016-10-23 13:40:24
5 hacks to succeed in discussions with your vendor – MES044